ENT for the Primary Care Practitioner (TOMA)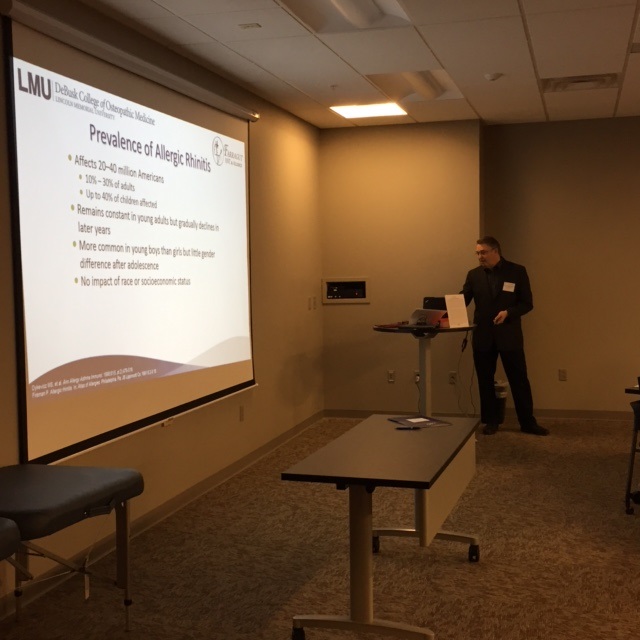 (this link takes you to the Tennessee Osteopathic Medical Assoication/TOMA website for registration)
This event is a preconference to the 2017 TOMA Convention
Program Description
Many common ENT conditions can be managed at the primary health care level with the potential for decreasing the burden on patients, hospitals, and specialty referrals and improving quality of care. This targeted, educational CME program features cost effective procedural learning, demonstrations, and take-home tools to enhance the practitioners' knowledge, skills, and competence in clinical practice.
Target Audience: Physicians, Nurse Practitioners, Physician Assistants and other health care providers involved in the care of ENT conditions commonly encountered in Primary Care.
Presented by LMU-DCOM and Farragut ENT
Date: Wednesday, April 26, 2017
Location: Crown Plaza Knoxville
401 W Summit Hill Drive, Knoxville, TN  37909
Time: 9:00 am - 5:00 pm
Fees:  $300 /200.00
CME Credit
Up to 6.75 AOA Category 1-A credits anticipated
Up to 6.75 AMA PRA Category 1 Credit(s)™ anticipated
Through participation in this educational CME activity, participants will have an opportunity to:
Objectives
Identify the patient who may benefit from evaluation and treatment of common ENT conditions.
Understand the importance of the primary care practitioner in the pathophysiology, sequela, and treatment of sinusitis, allergy and hearing loss.
Evaluate when to refer a patient to an ENT specialist for treatment options.
Evaluate the efficacy of the flexible nasolaryngoscopy procedure as a sinus treatment option in the primary care setting.
Evaluate the efficacy of an Osteopathic Manipulative Treatment (OMT) on sinusitis and allergies.
Identify the role of allergy screening tests as a cost-effective strategy. 
Measure hearing loss and discuss options for treatment.
Understand key coding and billing procedures in management of sinusitis, allergies, hearing loss and OMM.
Faculty
Leonard W. Brown, MD, FACS
Otolaryngology Head and Neck Surgery Associates, Knoxville, TN
Member, American Board of Otolaryngology
Past Chair, Board of Governors – American Academy of Otolaryngology Head and Neck Surgery
Juanita Brown, DO
Assistant Professor of OMM
Lincoln Memorial University-DeBusk College of Osteopathic Medicine (LMU-DCOM)
Lee Cottrell, AuD. CCC-A
Farragut Hearing Aids & Audiology, Knoxville, TN
American Speech Language Hearing Association
Mark T Gurley, MD, FAAOA
Farragut ENT and Allergy, Knoxville, TN
Member, American Board of Otolaryngology, American Academy of Otolaryngic Allergy, American Academy of Sleep Medicine
Susan Raschal, DO, FACAAI, FAAAI
Covenant Allergy & Asthma Care
Member, American Board of Allergy & Immunology
Chattanooga, TN
Michael Wieting, DO, M.Ed. FAOCPMR-D, FAAOE, FAAPMR
Senior Associate Dean,
Professor of Physical Medicine and Rehabilitation and of Osteopathic Manipulative Medicine (OMM)
Lincoln Memorial University-DeBusk College of Osteopathic Medicine (LMU-DCOM)
Jan Zieren, DO, MPH, FACOFP dist
Associate Professor of Family Medicine
Lincoln Memorial University-DeBusk College of Osteopathic Medicine (LMU-DCOM)
For information, please contact Patricia Stubenberg 423-869-6819 or patricia.stubenberg@lmunet.edu 
Crown Plaza, Knoxville
401 W Summit Hill Drive
United States
Available Credit
6.75

AMA PRA Category 1 CreditTM

6.75

AOA CME Credit

6.75

Attendance