CME News and Upcoming Courses

Promoting Performance Change in Clinical Practice
Skills-Building workshop Wednesday, April 4, 2018
Nashville, TN
Registration: https://goo.gl/WQcPFF
LMU-DCOM CME Office is Awarded
AACOM 2016 Research Grant
LMU-DCOM (CME Office) is one of sixteen College of Osteopathic Medical schools across the nation to receive an AACOM 2016 Medical Education Research Grant award. The "Research on the Efficacy of Technological Didactic Education for OMSIII and OMSIV Clinical Adjunct Faculty Preceptors"  project aim is to determine the impact of online technology delivered CME education for adjunct faculty preceptors providing improved levels of skill and comfort in the supervision for OPP education provided to OMSIII and OMSIV students within the preceptors' practice.

LMU-DCOM offers a selection of live and online faculty development programs with a focus on Best Practices in Clinical Teaching. Many offer free and/or discounted CME credit and are available to any health care provider. Please check back soon for upcoming courses.
Category 1-A Requirements for Online CME Programs
Up to fifteen (15) Category 1-A AOA credits may be earned from real-time, interactice CME or online, on-demand CME programs
Clinical Teaching and Reflective Practice
Office of CME and Preceptor Development
Mission
The mission of the Office of Continuing Medical Education (CME) at LMU-DCOM will remain consistent with the mission of the DeBusk College of Osteopathic Medicine in its commitment to prepare outstanding osteopathic physicians who are committed to the premise that the cornerstone of meaningful existence is service to humanity. 
Accreditation Statement
LMU-DCOM is an AOA-CME Category I sponsor accredited by the American Osteopathic Association (AOA) Council on Continuing Medical Education (CCME) to present programs that qualify for AOA-CME category I credit.
LMU-DCOM is also a "Joint Sponsor" with the Department of Continuing Medical Education at the University of New England College of Osteopathic Medicine (UNECOM), offering AMA PRA Category 1 Credit™ on many CME activities.
The Lincoln Memorial University-DeBusk College of Osteopathic Medicine (LMU-DCOM) Office of CME earned a perfect score for its continuing medical education activities from the American Osteopathic Association (AOA) November 2017 and has been awarded Five-Year Accreditation with Commendation status as a Category 1 CME Sponsor.
LMU-DCOM CME Office receives
Five-Year Accreditation with Commendation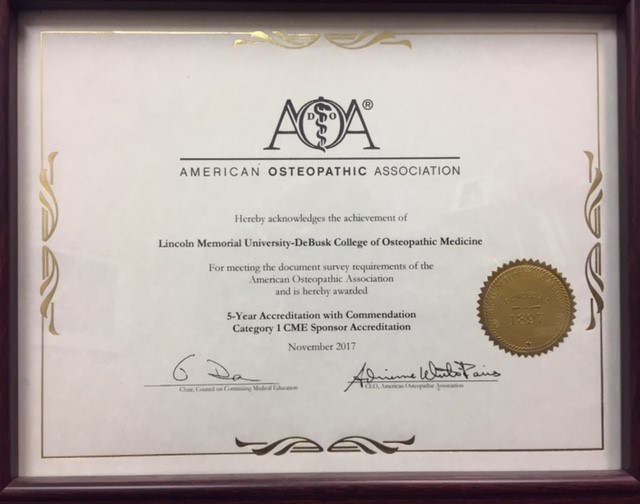 Calendar
Sun
Mon
Tue
Wed
Thu
Fri
Sat