Case-Based Learning and Clinical Teaching Models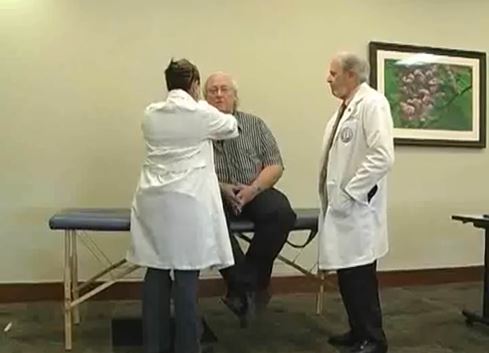 Background
Clinical settings offer rich environments for teaching opportunities. Evidence-based teaching methods and instructional strategies such as reflective practice and clinical reasoning provide value to the educational experience and improve teaching and learning for the preceptor and student and ultimately, patient care outcomes.
This CME activity uses three short video clips on Case-Based Learning and Clinical Teaching models to help improve teaching and learning at your rotation site in consideration of practice time constraints.
Instructional Method
This educational activity is presented in an online, on demand format of three short video clips of clinical teaching models with role playing scenarios.
Video 1: One-Minute Observation
Provides a framework for teaching in the office or emergency room, encourages students to think critically about the case and gives insight into clinical reasoning skills. Highlights the importance of providing feedback on performance to the student.
Video 2: Aunt Minnie Model
Promotes rapid pattern recognition among learners in ambulatory settings, encouraging learners to justify their thinking and exploring what they don't understand.
Video 3: Microskills Model
Utilizes simple, discrete teaching behaviors or "microskills" as a framework for clinical teaching encounters, enhancing the opportunity for effective learning.
Case-based learning is a teaching model commonly used in clinical teaching where the learner presents a patient case after independently gathering data. It includes:
Role modeling
Questioning
Being an expert consultant
Mini lecturing
Encouraging self-directed independent learning
Assigning directed independent learning
There are no prerequisites for this course.
Cost   Free
Review Date: November 2012
Release Date: May 23, 2014
Review Date: March 22, 2018
Expiration Date   December 31, 2019
Assessment
The post-test consist of three reflective questions which assess learning at a higher level beyond knowledge gain. There are no right or wrong answers. Rather the goal is to promote critical exploration of understanding and meaning through active learning Once the assessment activity is completed, participants will be able to download a certificate with credit.
Resources:
Cayley, W. E., Jr. (2011). Effective clinical education: strategies for teaching medical students and residents in the office.
MJ : official publication of the State Medical Society of Wisconsin, 110(4), 178-181; quiz 203.
Hewson, M. G. (1991). Reflection in clinical teaching: an analysis of reflection-on-action and itsimplications for staffing residents. [Research Support, U.S. Gov't, P.H.S.]. Medical teacher, 13(3), 227-231.
Mann, K., Gordon, J., & MacLeod, A. (2009). Reflection and reflective practice in health professions education: a systematic review. Adv in Health Sci Edu, 14:595-621.
Target Audience
LMU-DCOM third and fourth year clinical adjunct faculty (preceptors) and other health care professionals in a clinical teaching role.
Learning Objectives
The clinical teacher will be able to:
1.     Identify three case-based teaching models
2.     Demonstrate an effective instructional strategy
3.     Assess how reflective practice can be applied to the teaching setting
J. Michael Wieting, D.O., M.Ed., FAOCPMR,FAAPMR
Senior Associate Dean
DCOM/ Division of Health Sciences
Professor of Physical Medicine and Rehabilitation
Professor of Osteopathic Manipulative Medicine
Lincoln Memorial University- DeBusk College of Osteopathic Medicine
 
Burt Routman, DO
Professor/Chairman Emeritus of Family Medicine
Lincoln Memorial University- DeBusk College of Osteopathic MedicineScroll to bottom of page for CV
 
Gina DeFranco, DO
Associate Professor of Family Medicine
Lincoln Memorial University- DeBusk College of Osteopathic Medicine
 
It is the practice of LMU-DCOM to ensure balance, independence, objectivity, and scientific rigor in all its educational programs. All participating faculty, CME planners, and reviewers in these programs are required to disclose any relevant financial relationship(s) they have with a commercial interest that benefits the individual in any financial amount occurring within the past 12 months; and the opportunity to affect the content of CME about the products or services of the commercial interest.
Click here for LMU-DCOM's policy on privacy and confidentiality
Commercial Support
No commercial support
AOA
Lincoln Memorial University DeBusk College of Osteopathic Medicine (LMU-DCOM) is accredited by the American Osteopathic Association (AOA) Council on Continuing Medical Education (CCME) to present programs that qualify for AOA-CME Category 1 credit.
Lincoln Memorial University DeBusk College of Osteopathic Medicine (LMU-DCOM) and the AOA Council on Continuing Medical Education (CCME) approve this educational activity for a maximum of 1.0 hours of AOA Category 1-B CME credits.
Physicians should claim credit commensurate with the extent of their participation in the activity.
A Certificate of Completion is provided after the completion of required activities (video, post-test, and evaluation) for non-physicians and other health care professionals who want to self-claim Continuing Education (CE) credit.
Available Credit
1.00

AOA CME Credit

1.00

Attendance
Required Hardware/software
To complete this activity, users will need:
A device with an Internet connection
One of the two latest versions of Google Chrome, Mozilla Firefox, or Safari (Internet Explorer is no longer supported)
Adobe Flash Player and/or an HTML5 capable browser for video or audio playback
Adobe Reader or other PDF reader software for certificate viewing/printing